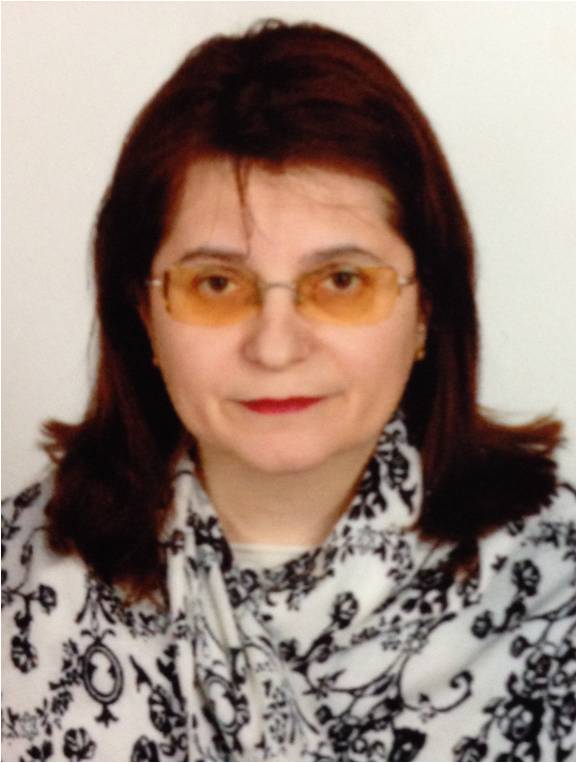 Veneta Hristova
Scientific degree: Doctor of Economic Sciences
Academic rank: Associate Professor
Country: Bulgaria
City: Veliko Turnovo
Organization: St. Cyril and St. Methodius University of Veliko Tarnovo
Position: Vice Dean for Research and International Relations
Education – graduated from the Tsenov Academy of Economics, qualified as Master (1994)
Academic degree – PhD (2003)
Position – Deputy Dean for Research and International Cooperation, Associate Professor of the Department of Economic Management, St. Cyril and St. Methodius University of Veliko Tarnovo (Bulgaria, Veliko Tarnovo).
Research interests: specialist in economics and industrial management
- study of entrepreneurship support in Bulgaria in historical retrospect;
- research of issues related to the formation of entrepreneurial intentions of students through the tools of the educational process in universities;
- identification of problematic sectors of industrial policy in Bulgaria.
- author of more than 75 publications on entrepreneurship, human resource management, strategic personnel management, team management, business clusters;
- Chairperson of the General Meeting of the Faculty of Economics;
- Editor-in-Chief of the Socio-Economic Analysis Journal;
- Coordinator of the Center for Economic Research;
- Member of the Bulgarian Association for Human Resource Management;
- Member of the Association of Teachers of Economics and Management in the Industry;
- Member of the Union of Scientists of Bulgaria, branch of Veliko Tarnovo;
- Member of the Center for Economic and Historical Research;
- Member of the Board of the Bulgarian Industrial Association in Veliko Tarnovo.
ORCID: 0000-0002-2511-2987.
Major works:
Hristova V., et al. Glamping Entrepreneurs' Perspective After COVID-19 - Some Evidences From Poland and Bulgaria / Wolejsza, Piotr // Scientific Horizons. 2021. No. 1 (41). Pp. 65-74. Print ISSN 2587-618Х, Available at: http://www.sciencehorizon.ru.
Hristova V., et al. Future competencies for the Innovative Industry / Wolejsza, Piotr // Proceedings of the annual conference of the Faculty of Stopping at the University of Veliko Tarnovo "St. St. Cyril and Methodius", held on 17-18.10.2019 in Veliko Tarnovo on the topic: " Development of the Bulgarian and European economy - Challenges and Opportunities ". V. Tarnovo: University Publishing House "St. St. Cyril and Methodius". 2020. Vol. 3. Pp. 173-183. ISSN 2603-4093
Hristova V., et al. Glamping as One of New Entrepreneurial Approaches for Luxury Tourism After COVID-19 / Wolejsza, Piotr // The book of proceedings (abstracts) of IV International West Asia Congress of Tourism Research Congress (IWACT). Akanakkale Onsekiz Mart University (IWACT 20). 15-17 October 2020. İSTANBUL: Güngören. P. 13, ISBN: 978-625-7686-06-8 https://iwact.org/upload/file/2021-01-16-iwact-20-ozet-metinler-kitabi-160034549a07bb.pdf
Hristova V., et al. Senior entrepreneurship as a Possible Solution to the Generational Imbalance in Society / Wolejsza, Piotr // Proceedings of international scientific conference on the topic: "Conflict and Its Resolution - Legal, Historical, Economic and Psychological Aspects". November 29, 2019, Veliko Tarnovo. Veliko Tarnovo: Faber. 2020. Pp. 172-178. (in Bulgarian)
Hristova V., et al. The Empirical Study on Motivation for Starting a Business by Bulgarian and Polish Students / Wolejsza, Piotr // Proceedings of 3rd International Conference: Southeast Europe: History, Culture, Politics, and Economy, held at "St. Cyril and St. Methodius "University of Veliko Tarnovo. June, 9th 2020. Bologna: Filodiritto. ISBN 978-88-85813-99-1. Pp. 140-149. (in Bulgarian)
Hristova V. The New Face of Senior Entrepreneurship // Strategic perspectives for the development of modern business. Ministry of Education and Science of Ukraine. State University of Ivan Franko in Zhytomyr. Ukraine Odessa State Economic University. Ukraine State University named after Stefan Batory. Skierniewice. Poland St. Cyril and Methodius. Veliko Tarnovo. Bulgaria. 2020. Pp. 36-40, ISBN 978-83-61467-92-2. (in Bulgarian)
Hristova V. Application of Chatbot in the Activities of Human Resources Management in Companies // Proceedings of the annual conference of the Faculty of Footsteps of the University of Veliko Tarnovo "St. St. Cyril and Methodius", held on 17-18.10.2019 in Veliko Tarnovo on the topic: "Development of the Bulgarian and European Economy - Challenges and Opportunities". V. Tarnovo: University Publishing House "St. St. Cyril and Methodius". 2020. Vol. 3. Pp. 189-195. ISSN 2603-4093. (in Bulgarian)
Hristova V. Advantages and Limitations of Chat Bots in Human Resources Management Activities // Scientific Horizons. 2019. No. 8 (24). Pp. 74-80. Print ISSN 2587-618Х. (in Bulgarian)
Hristova V. Entrepreneurial Environment Developments at South Eastern EU Member states // Filodiritto, International Proceedings, Italy.
Hristova V. Some Trends in Entrepreneurship Education in Bulgaria // Modern Education: Vectors of Development. Innovative approaches to the teaching of social sciences and humanities, Proceedings of the IV International Conference (April 25-26, 2019). Moscow: MPGU. Pp. 374-382, ISBN 978-5-4263-0801-5.
Hristova V. Conflict Aspects in the Implementation of Internal Business Projects in Organizations // Proceedings of the International Scientific Conference, Veliko Tarnovo, 9-10.11.2018 on "The Modern Place and Role of Alternative Ways of Resolving Disputes - Between Tradition and the Current Legal Framework in Bulgaria and the Member States of the European Union, editorial board, Veliko Tarnovo: Faber, 2019. Pp. 256-264, ISBN 978-619-00-0946-7. (in Bulgarian)
Hristova V., et al. Professional Overheating in Organizations - Causes, Consequences and strategies for Dealing with It / Dimitrova, Vanya, Andreeva, Denitsa // Proceedings of the annual conference of the Faculty of Economics at VTU "St. St. Cyril and Methodius". V. Tarnovo: IM of VTU. Pp. 107-117, ISSN 2603-4093. (in Bulgarian)
Hristova V. The Development of the Bulgarian Economy During Socialism and Entrepreneurship - Relations for Crisis Then and Today // Crises and Economic Development Through the Centuries. Varna: Notices of CSII. 2019. Pp. 240-249. ISSN 2534-9244 (vol. IV). (in Bulgarian)
Hristova V., et al. Financing of Entrepreneurial Activities / Stoyanov, Ivan // Economic Horizons '21 - Financial and Accounting Perspectives. Volume 1. Veliko Tarnovo: IM "St. St. Cyril and Methodius". 2019. Pp. 110-123. (in Bulgarian)
Hristova V., et al. On Entrepreneurial Intentions - Some Aspects of Survey Results / Vasilska, Maria // UI "St. St. Cyril and Methodius".
Hristova V. Small Entrepreneurship Development in Bulgaria - Some Problems and Challenges // Filodiritto Editore, Italy.
Hristova V. The Entrepreneurship Education - through the Bulgarian Entrepreneurs' Eyes // BAMDE, http://conference.bamde.org/Documents/Proceedings%20abstracts/Proceedings%202016/07_Hristova.pdf.
Hristova V., et al. Opportunities for Improving the Management of Public Administration Employees (Following the Example of the Labor Inspection Directorate - Veliko Tarnovo) / Andreeva, Denitsa // Iz-vo na NBU, online: https://administracija-i-upravlenie.nbu.bg/ bg / godishnici / arhiv-na-godishnik-na-departament-administraciq-i-upravlenie / godishnik-na-departament-administraciq-i-upravlenie-t-3-2018-issn-2603-297-x-online. (in Bulgarian)
Hristova V. The Support for Entrepreneurship in Bulgaria Through the Centuries - Some Aspects // Institutions and Bulgarian Economic Development, Through the Centuries. Varna: Izvestiya na CSII, 2018. Pp. 151-164, ISSN 2534-9244 (vol. III). (in Bulgarian)
Hristova V., et al. Incentives in Entrepreneurship / Deneva, Aneta // Proceedings of an international scientific-practical conference on "Opportunities for Business Development - Economic, Managerial and Social Dimensions." Vol.1. Svishtov: AI "Tsenov". 2018. ISBN: 978-954-23-1702-9. Pp. 152-157. (in Bulgarian)