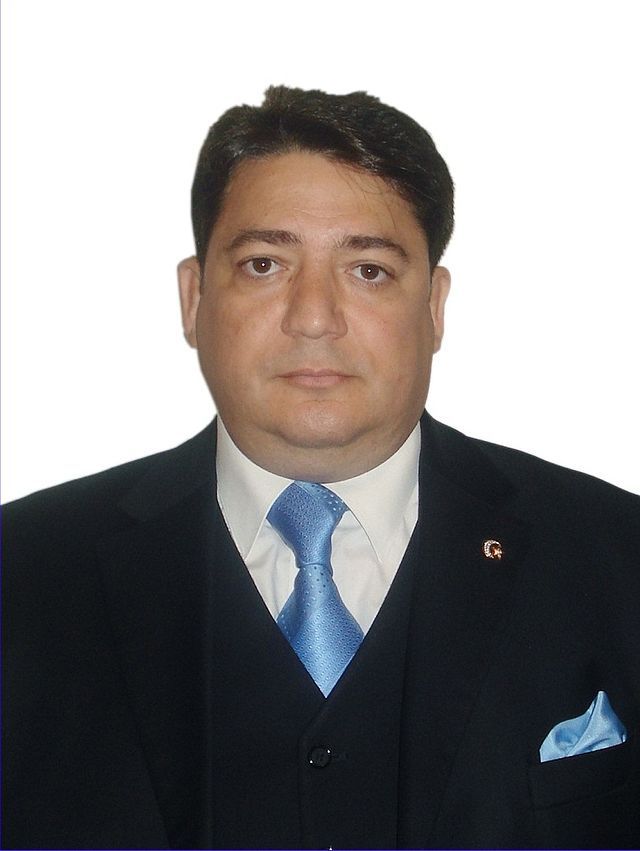 Zahid F. ogly Mamedov
Scientific degree: Doctor of Economic Sciences
Academic rank: Professor
Country: Azerbaijan
City: Baku
Organization: Azerbaijan State University of Economics (UNEC)
Position: Head of the Department of Organization and Management of Scientific Activities
Education – graduated from the Finance and Credit Faculty of the Baku Branch of the Leningrad Financial and Economic Institute with a degree in Finance-Credit (1988).
Academic degree – Doctor of Economic Sciences, specialty 08.00.10 Finance, money circulation and credit. Doctoral dissertation on "Banking Crisis as a Catalyst for the Process of Reforming the Banking System: Global Trends and Russian Practice" was defended at the Dissertation Council at the St. Petersburg State University of Finance and Economics (2006)
Position – Head of the Department of Organization and Management of Scientific Activities of the Azerbaijan State Economic University - UNEC (Azerbaijan, Baku)
Research interests: specialist in the field of monetary policy, financial globalization, development of the monetary system, issues of anti-crisis activities.
- author's interpretation of the concept of a financial and banking crisis has been given, the features of banking crises have been classified;
- close connection between financial liberalization and the banking crisis has been revealed;
- new form of transmission of crises and ways of their spread in different countries and separate regions of the world, given an interpretation of the concepts of "banking infection" and "domino effect" in the banking system has been disclosed.
- author of more than 140 scientific papers, 80 of which were published abroad. 10 monographs, 3 textbooks (RSCI Hirsch index: 6);
- Chief Researcher at the Institute of Economics of the National Academy of Sciences of Azerbaijan;
- Individual Member of the Trade Union Committee of Azerbaijan Mass Media Workers, awarded the Golden Pen Award;
- Member of the editorial board of the Bulletin of the Financial Academy Journal under the Government of the Russian Federation;
- Member of the International Scientific Council of the Öngörü Journal, which is the organ of the Turkish Analytical Center for Strategic Studies in Asia.
- awarded the Order of the I degree for scientific merits by the decision of the Academic Council of the St. Petersburg Academy of Economics and Management (2010)
- Certificate of Honour of the Ministry of Education of the Republic of Azerbaijan (2011);
- Honorary Worker of Higher Professional Education Badge (2015).
For more detailed information:
https://ru.wikipedia.org/wiki/Мамедов,_Захид_Фаррух_оглы
SPIN-code RSCI: 4640-3857.
Major works:
Mamedov Z.F., Aliyev Sh., Jafarova N. Digitalization of the Economy: Analysis of Influence on the Banking Sphere in Azerbaijan in the Context of World Experience // Proceedings of the national scientific-practical conference of specialists, scientists, graduate students and students with international participation. 2020. Pp. 67-78.
Mamedov Z.F., Mirzaev M.R.O. Justification of the Reasons for the Introduction of a Floating Exchange Rate Regime in Azerbaijan // Regional Specificity and Russian Experience in Business and Economic Development. Proceedings of the XI International Scientific and Practical Conference. Astrakhan, 2020. Pp. 9-12. (in Russian)
Mamedov Z.F., Abbasbeyli M.A.O., Valiev E.N.O., Veisov E.N.O. Azerbaijan Banking Sector: New Trends and Prospects // Economy and Management. 2020. Vol. 26. No. 7 (177). Pp. 775-783. (in Russian)
Mamedov Z.F., Valiev E.N.O., Veisov E.N.O. Modern Features of the Development of the Banking Sector of Azerbaijan // Economic sciences. 2020. No. 188. Pp. 131-136. (in Russian)
Mamedov Z.F., Bayramova Kh. University Development Strategies: Commercialization and Responses to New Challenges // Economics and Management: Problems, Solutions. 2020. Vol. 1. No. 10 (106). Pp. 155-162.
Mamedov Z.F. Conceptual Discussion on the Formation of a "Knowledge Triangle" in the Context of Modern Challenges: World Experience and Realities of Azerbaijan // Regional Specificity and Russian Experience of Business and Economy Development. Proceedings of the X jubilee International scientific and practical conference. 2019. Pp. 24-26. (in Russian)
Mamedov Z.F. Digitalization of the Banking Sector in Azerbaijan: New Challenges and Prospects // Caspian Sea in the Era of Digital Economy. Proceedings of the International Scientific and Practical Forum. 2019. Pp. 38-44. (in Russian)
Abbasov A.M., Mamedov Z.F., Aliev S.A. Basic Digital Bank Development Trends: Modern Challenges, Problems and Prospects // National Economic Systems in the Context of the Formation of a Digital Economy. Proceedings of the international Scientific and Practical Conference. 2019. Pp. 9-17. (in Russian)
Mamedov Z.F., Mamedova S.K., Mirzaev M.R. Characterises of Private Financing of Healthcare: New Challenges and Prospects // Economics and Management. 2019. No. 12 (170). Pp. 41-55.
Abbasov A.M., Mamedov Z.F., Aliev S.A. Digitalization of the Banking Sector: New Challenges and Prospects // Economics and Management. 2019. No. 6 (164). Pp. 81-89. (in Russian)
Mamedov Z.F. Modern University: New Challenges and Complex Tasks // Economics and Management: Problems, Solutions. 2019. Vol. IV. P. 110.
Mamedov Z.F. Islamic Development Bank - as the Main Financial Organization of the Islamic World // Information Technologies and Systems: Management, Economics, Transport, Law. 2019. No. 2 (34). Pp. 175-179. (in Russian)
Mamedov Z.F., Velieva N.T.G. The Role of the Russian Language in the Professional Training of Economics Students // Dialogue: Politics, Law, Economics. 2019. No. 1 (12). Pp. 69-76. (in Russian)
Mamedov Z.F. Conceptual Discussion on the Formation of a "Knowledge Triangle" in the Face of Modern Challenges: World Experience and Realities of Azerbaijan // Economic Growth of the Republic of Belarus: Globalization, Innovation, Sustainability. Proceedings of the XI International Scientific and Practical Conference. 2018. Pp. 283-285. (in Russian)
Mamedov Z.F. Conceptual Discussion on the Formation of a "Knowledge Triangle" in the Context of the Challenges of Our Time: World Experience and Realities of Azerbaijan // Modern Management and Economics: Problems and Development Prospects. Proceedings of the international scientific-practical conference of specialists, scientists, graduate students and students. 2018. Pp. 77-81. (in Russian)
Mamedov Z.F. Islamic Banking System: New Challenges, Problems and Development Prospects // Economics and Management. 2018. No. 4 (150). Pp. 4-10. (in Russian)
Mamedov Z.F. Islamic banking system: new challenges, problems and development prospects // Economy and Management: Problems, Solutions. 2018. Vol. 3. No. 4. Pp. 66-69. (in Russian)
Mamedov Z.F. Institute of Mega-Regulator as Maintenance of Financial Stability // Modern Management and Economics: Problems and Development Prospects. 2017. Pp. 97-104. (in Russian)
Mamedov Z.F. Models of Islamic Banking: New Trends and Challenges for the cis Countries // Economy and Management: Problems, Solutions. 2017. Vol. 1. No. 4. Pp. 125-133. (in Russian)
Mamedov Z.F., Sabzaliev S.M. Banking System of Azerbaijan: Global Challenges and Development Prospects // System Analysis in Economy - 2016. Proceedings of the IV International Scientific and Practical Conference-Biennale. Edited by G.B. Kleiner, S.E. Shchepetova. 2016. Pp. 257-260. (in Russian)